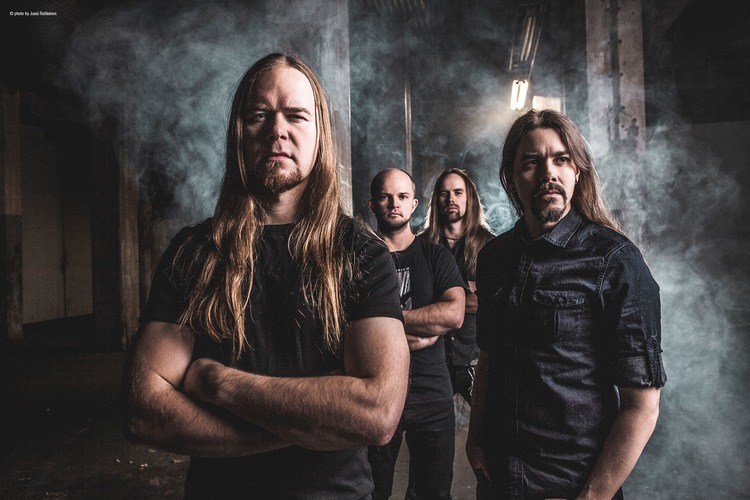 Into the Woods
Now close your eyes
And open your weary heart
Let me soothe away the woes
Of fiendish world...
As will the sun bathe the land
In its warming light
So shall the moon ascend
To guide the day to wane
In turn the rain to hush
The tumult of this world
And the wind to rise,
Sigh a lullaby in trees
"Not in these troubled times
I'm not the one you pined for
No, not into calmer waters
I'm not the one you long for"
"But a scarecrow, an anathema to the world
Looking in from the outside
It's time to turn my back
Walk off the beaten path
Seek heartening in solitude"
The arch of sky is roof where I call it home
Drizzle of rain, the only music from now on
My bed is made from juniper's boughs
Of mire and moss my pillow
Lone footprints diverge from tree line
Autumn veils the sloughs with rime
Shell of quagmire
Yet too fragile to bear a man

В Леса
Теперь закройте глаза
И открыть усталое сердце
Позвольте мне успокоить прочь беды
Из дьявольского мира ...
Как солнце омывают землю
В его свете потепления
Так будет восходить луна
Для руководства день ослабевать
В свою очередь, дождь замять
Ажиотаж этого мира
И ветер расти,
Вздох колыбельную в деревьях
«Не в эти смутные времена
Я не один ты тосковал
Нет, не в спокойные воды
Я не один вы долго»
«Но пугало, анафема к миру
Глядя извне
Пора отвернется
Прогулка глуши
Ищи обнадеживающим в одиночестве»
Свод неба крыши, где я называю его домом
Полить дождь, только музыка теперь
Моя кровать изготовлена ​​из сучьев можжевельника в
Из тины и мох подушки
Одинокие следы расходятся от линии дерева
Осень Вуалирует луга с инеем
Скорлупа трясины
Тем не менее, слишком хрупки, чтобы нести человек
На данной странице располагается перевод песни «Into the Woods» исполнителя «Insomnium». На русском языке песня звучит как «В Леса ». Для Вашего удобства текст мы расположили в две колонки: в левой находятся слова песни «Insomnium - Into the Woods» на английском языке, в правой же перевод песни «Into the Woods» на русском языке.
Еще переводы песен исполнителя Insomnium