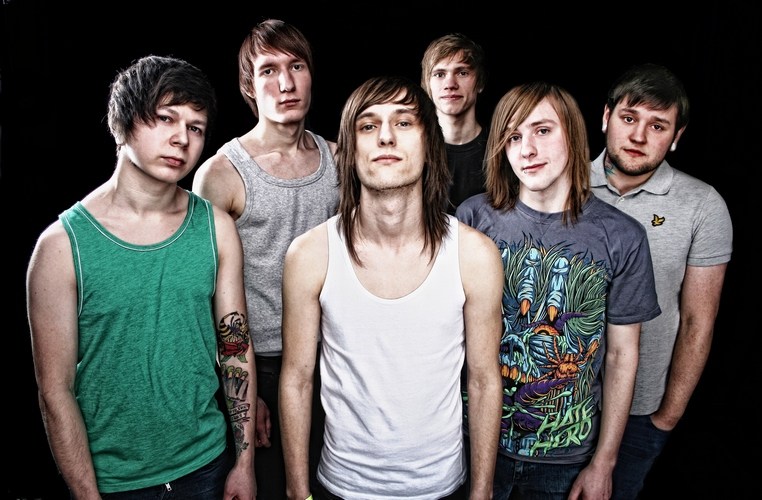 Stay in Your Hearts
Stay In Your Hearts!
Sometimes we put the walls around our heart,
Not to protect ourselves from sorrow,
But to find out who cares of us enough
To break the walls and to get closer.
Now you know
Here's my hand
We're here to make you feel not alone,
You'll never left on your own.
Don't pretend
I know you hear my voice in your heart,
I'll always be by your side
Don't go for looks, they'll deceive you,
And wealth can fade away,
Your problems help to realize -
You can defeat the pain
Think of the heights
You can achieve
If you dare take a chance
And make yourself believe
Feel that
My care and my support
We're here, there's no doubt
You'll go through it all
Don't be scared
Your fear is not surprising
Rely on me
You'll conquer this fear
Don't cry
Wings are tightly tied
But
This is better time
Let your feelings fly
Up high
And now
You are free
Our life's not so simple
Some battles have to fought
Relying on yourself, alone
Some trails you need to choose
And easy overcome
Don't be shy
A journey of hundred miles
Began with one step
Just take a breath
And try
The only thing you need
To clear you from within and
Don't hide yourself in cage
No matter what they think
We wanna make you feel it
The new life page
We're in your heart
Our fire inside warms you up
Please don't look back
We are here and we won't let you down
Look outside
And we'll show you the marvellous light
Of your life
We just wanted to stay in your hearts

Остаться в ваших сердцах
Пребывание в ваших сердцах!
Иногда мы ставим стены вокруг нашего сердца,
Не, чтобы защитить себя от горя,
Но чтобы выяснить, кто заботится о нас достаточно
Для того, чтобы сломать стены и подойти ближе.
Теперь ты знаешь
Вот моя рука
Мы здесь, чтобы заставить вас чувствовать себя не в одиночку,
Вы никогда не будете оставлены на своем собственном.
Не притворяйся
Я знаю, что вы слышите мой голос в вашем сердце,
Я всегда буду рядом с тобой
Не идти на внешний вид, они будут обманывать вас,
И богатство может исчезнуть,
Ваши проблемы поможет реализовать -
Вы можете победить боль
Подумайте о высоте
Вы можете достичь
Если вы решитесь рискнуть
И заставить себя поверить
Почувствуй это
Моя забота и моя поддержка
Мы здесь, нет никаких сомнений в том,
Вы будете идти через все это
Не пугайтесь
Ваш страх не удивительно,
Положись на меня
Вы будете покорять этот страх
Не плачь
Крылья тесно связаны
Но
Это лучшее время
Пусть ваши чувства летать
Высоко
И сейчас
Вы свободны
Наша жизнь не так просто
Некоторые бои должны бороться
Опираясь на себя, в одиночку
Некоторые трассы вам нужно выбрать
И легко преодолеть
Не стесняйся
Путь в сто миль
Начали с одного шага
Просто подышать
И попробовать
Единственное, что вам нужно
Для того, чтобы очистить вас изнутри и
Не прячьтесь в клетке
Независимо от того, что они думают
Мы хотим, чтобы вы чувствуете его
Новая жизнь страница
Мы в вашем сердце
Наш огонь внутри согревает
Пожалуйста, не оглядываться назад
Мы здесь, и мы не подведем
Посмотрите снаружи
И мы покажем вам чудесный свет
Из вашей жизни
Мы просто хотели остаться в ваших сердцах
На данной странице располагается перевод песни «Stay in Your Hearts» исполнителя «Aspirin Rose». На русском языке песня звучит как «Остаться в ваших сердцах ». Для Вашего удобства текст мы расположили в две колонки: в левой находятся слова песни «Aspirin Rose - Stay in Your Hearts» на английском языке, в правой же перевод песни «Stay in Your Hearts» на русском языке.
Еще переводы песен исполнителя Aspirin Rose