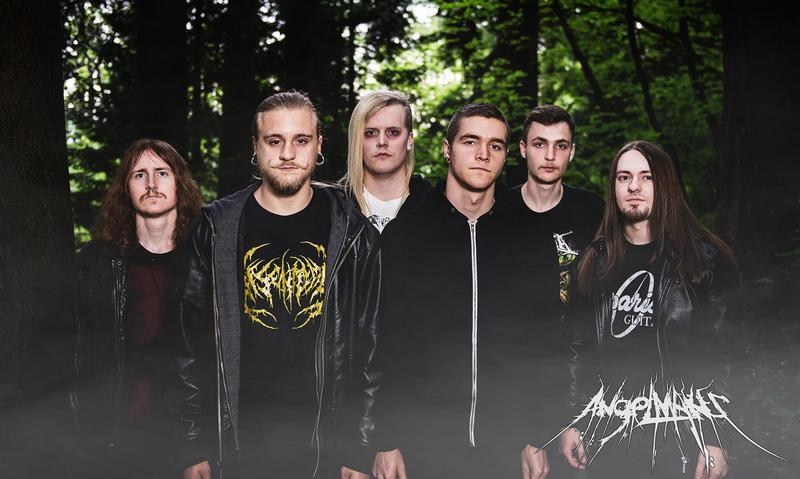 A Dark Omen
To my dearest lover, I may never return home
There is a demon plaguing our lands and I must protect our home
Sickness is upon these lands, these mangled bodies in our hands
Behold a day of woe and sorrow
Together we await the storm
A demonic colossus, has death himself come to claim us
Our world has fallen to fade
The sickened disease of this human race has come and gone
I miss my friends and family
I feel so alone
The darkest days approach me, how long can I hold?
My will is fading but my chaos will unfold!
As I walk I can feel the pain
I go on, will I die in vain?
Is this the end of me?
Frozen in still figure, I stood in the gaze of
The beast that the legend has foretold of, this famine
His sickness consumes me
His eyes see right through me
Consuming my courage my fury unleashed
It's revolting appearance pales only in comparison
To its despicable cruelty done unto the innocent
Battered and broken as I lay so weak
Slaughtered in bloodbath, my will achieved

Smothered in victory, my odyssey
My heart turns black, as I become the beast
Purpose has spilt from me
I cannot live this life of disease
The abyss gaping beneath
I plummet away from suffering

Темный знак
К моему дорогому любовнику, я никогда не вернуться домой
Там находится демон, преследующий свои земли, и я должен защитить свой дом
Болезнь на этих землях, эти изувеченные тела в наших руках
Вот в день скорби и печали
Вместе мы ожидаем шторм
Демонический колосс, есть смерть и сам пришел к нам утверждать,
Наш мир упал угасать
Заболели болезнью этой человеческой расы пришел и ушел
Я скучаю по своим друзьям и семье
Мне так одиноко
Самые темные дни ко мне, как долго я могу держать?
Моя воля исчезает, но мой хаос будет разворачиваться!
Когда я иду, я могу чувствовать боль
Я иду дальше, я умру напрасно?
Является ли это конец меня?
Замороженный в неподвижной фигуре, я стоял во взгляде
Зверь, что легенда предсказал этот голод
Его болезнь поглощает меня
Его глаза видят меня насквозь
Потребляя мое мужество моя ярость развязана
Это возмутительно вид оград только в сравнении
Для того, чтобы его подлая жестокость поступили невиновных
Разрушенные и сломаны, как я лежал так слаб
Забитый в кровопролитии, моя воля достигнута

Задушенная в победе, моя одиссея
Мое сердце чернеет, как я стал зверем
Цель пролила от меня
Я не могу жить этой жизнью болезни
Пропасть зияет под
Я отвес от страданий
На данной странице располагается перевод песни «A Dark Omen» исполнителя «Angelmaker». На русском языке песня звучит как «Темный знак ». Для Вашего удобства текст мы расположили в две колонки: в левой находятся слова песни «Angelmaker - A Dark Omen» на английском языке, в правой же перевод песни «A Dark Omen» на русском языке.
Еще переводы песен исполнителя Angelmaker