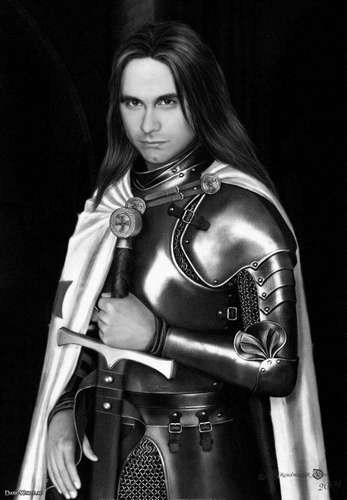 Remember Why
I see the future coming
I'll tell you what's to be
A life turns into another
But no more I can't see
And I hold your hand
You said you'd never leave him
But now you let him go
Someday he will forgive you
And stop to suffer so
A storm arrives with thunders
The end arrived with smiles
A life inside another
Has made it's ways through cries
And I hold your hand
Yes, I hold your hand...
Some days we're covered up in sorrow
But still we're standing here
Sometimes this life's too short
to understand
Someone, oh, please just let me borrow
A little courage for my fears at night...
Don't drift into a state of sadness
Making something never seen
Look under every stone along the way
Whatever happens, use your power,
Don't surrender to your fears at night...
So, turn around,
Keep on moving now
Hitting every single road
Just keeping on running on and on and on...
Running on and on we face our fears
I remember why
And though the dangers run so near,
A rainbow fills the sky
The freedom lies over our heads
We must live before we die
Believe me, I remember why!
There's a way
To melt down your frozen heart
Just keep on living
Cause inside, your will
Never dies! Oh, no!
Помни, почему
Я вижу будущее приходит
Я вам скажу, что это будет
Жизнь превращается в другой
Но не больше, я не могу видеть
И я держу руку
Вы сказали, что никогда не оставите его
Но теперь вы его отпустить
Когда-нибудь он простит вас
И перестаньте страдать так
Буря прибывает с громами
Конец прибыл с улыбками
Жизнь внутри другого
Сделали это путь через крики
И я держу руку
Да, я держу руку ...
Через несколько дней мы охватываемые в печали
Но до сих пор мы стоим здесь
Иногда эта жизнь слишком коротка
понимать
Кто-то, ну, пожалуйста, дайте мне взаймы
Немного мужества для моих страхов по ночам ...
Не дрейфовать в состояние печали
Делать что-то никогда не видел
Посмотрите под каждый камень по пути
Что бы ни случилось, используйте свою силу,
Не поддавайтесь свои страхи на ночь ...
Так, обернитесь,
Продолжайте двигаться прямо сейчас
Удары каждую дорогу
Просто держать на управлении и дальше и дальше ...
Запуск и дальше мы сталкиваемся с нашими страхами
Я помню, почему
И хотя опасность бежать так близко,
Радуга заполняет небо
Свобода лежит над нашими головами
Мы должны жить, прежде чем умереть
Поверьте, я помню, почему!
Там в пути
Для того, чтобы растопить ваше ледяное сердце
Просто продолжайте жить
Причина внутри, ваша воля
Никогда не умрет! О нет!
На данной странице располагается перевод песни «Remember Why» исполнителя «Andre Matos». На русском языке песня звучит как «Помни, почему ». Для Вашего удобства текст мы расположили в две колонки: в левой находятся слова песни «Andre Matos - Remember Why» на английском языке, в правой же перевод песни «Remember Why» на русском языке.
Еще переводы песен исполнителя Andre Matos