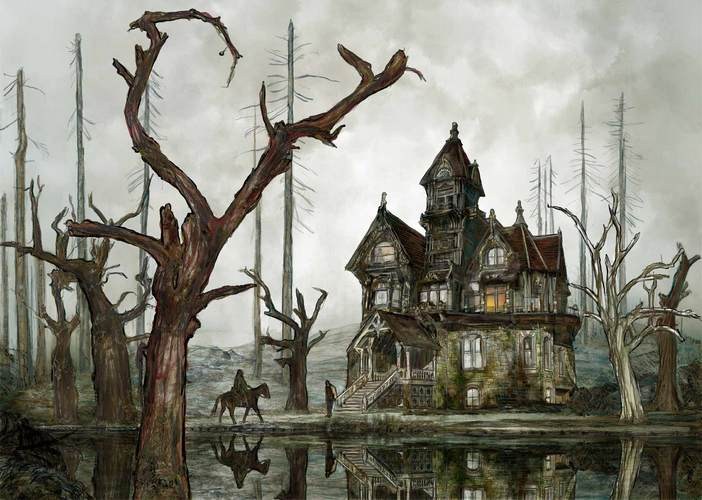 Unveiled
With a trick of the light she disappeared
Through a mirror, a veils of tears,
As pale as a shroud, without a noise.
From the alcove I heard her voice.
She charmed me with her fingertips,
She pulled me close to her, I touched her lips,
She threw her arms around my neck,
Overturned, I kissed her.
And when she's unwrapped,
She's looking like a saint.
They call her venomous, a trap,
But she never ain't...
She ain't seizable at all. She's left me.
Every midnight hour and all day long
I watched out for her, for she's the one.
She refused the love I wanted to give.
She knew without her I couldn't live.
I knew, she never would return,
I knew, my love would forever burn,
And when I'm dead I won't be free,
Her confident I'll always be.
And when she's undressed,
She's looking like a whore.
Her naked flesh - desire rules my day,
She's counting for the score.
She'll take off her clothes,
She sells herself at any chance.
At any chance she will sell her body.
She sells her soul...
And she will take you to the places
Where you've never been before,
Where you will find an ancient garden,
Where the nightshade flowers grow.
And then the moon will shine upon
These secrets that she's saved for you -
She will unveil,
She will unveil it all.

Раскрытая
С трюком света она исчезла
Через зеркало, пелена слез,
Как бледный, как саван, без шума.
Из алькова я услышал ее голос.
Она покорила меня кончики пальцев,
Она потянула меня к ней, я коснулся ее губ,
Она обняла меня за шею,
Перевернутый, я поцеловал ее.
И когда она развернула,
Она смотрит, как святой.
Они называют ее ядовитой, ловушка,
Но она никогда не ...
Она не могущий быть захваченным на всех. Она меня ушла.
Каждый час в полночь и в течение всего дня
Я наблюдал за ней, потому что она одна.
Она отказалась от любви я хотел дать.
Она знала, что без нее я не могу жить.
Я знал, что она никогда не вернется,
Я знал, что моя любовь будет вечно гореть,
И когда я умру, я не буду свободен,
Ее уверен, что я всегда буду.
И когда она разделась,
Она выглядит как шлюха.
Ее обнаженная плоть - желание правил мой день,
Она рассчитывает на счет.
Она будет снимать с себя одежду,
Она продает себя в какой-то шанс.
В какой-то шанс, она будет продавать свое тело.
Она продает свою душу ...
И она примет вас к местам
Где вы никогда не были раньше,
Где вы найдете старинный сад,
Где растут цветы пасленовых.
А потом луна будет светить на
Эти секреты, которые она спасла для вас -
Она представит,
Она представит все.
На данной странице располагается перевод песни «Unveiled» исполнителя «House of Usher, The». На русском языке песня звучит как «Раскрытая ». Для Вашего удобства текст мы расположили в две колонки: в левой находятся слова песни «House of Usher, The - Unveiled» на английском языке, в правой же перевод песни «Unveiled» на русском языке.
Еще переводы песен исполнителя House of Usher, The