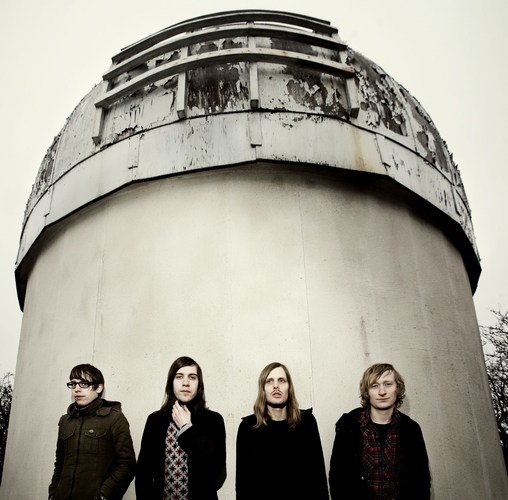 Swimming Eyes
A silhouette passing by in front of your eyes.
Someone walking through the crowd,
That's just her body, it's not her.
Just a reflection of a time that's lost,
Memories painted as the contours of
Someone you once would have died for.
A sound makes it through the constant noise
A voice so familiar.
But the words they're not the same,
As the ones she used to say.
The sentences they're not how
They used to be,
Though still as beautiful.
They're not meant for you.
So how did it feel tonight
As the streets became yours?
The streets of the city,
In which our stories were written.
So how did it feel like
Your hand in someone else's hand,
Your features of your face,
On someone else's mind,
The breath of another as,
As the last sound you'll hear before sleep,
As the first you hear at dawn?
How will that feel like?
Will it make you feel alive?
[2x:]
There's so much pain in here,
There's too many feelings,
Left from back when,
The days still left us with
These little things,
That kept us trying.

Наполненные слезами глаза
Силуэт, проходя мимо перед вашими глазами.
Кто-то шел через толпу,
Вот только ее тело, это не она.
Просто отражение времени, который потерял,
Воспоминания окрашены в контуры
Кто-то когда-то вы умерли бы за.
Звук делает его через постоянный шум
Голос такой знакомый.
Но слова они не то же самое,
Как те, что она говорила.
Приговоры они не так, как
Раньше они,
Хотя все так же красиво.
Они не предназначены для вас.
Так как же это чувствуют сегодня
По мере того как улицы стал вашим?
Улицы города,
В котором были написаны наши истории.
Так как же это похоже
Ваша рука в руке Чужой,
Ваши черты лица,
На виду кого-то другого,
Дыхание другого, как,
Как последний звук, который вы будете слышать перед сном,
Как первое вы слышите на рассвете?
Как это будет чувствовать себя как?
Будет ли это заставит вас чувствовать себя живым?
[2x:]
Там так много боли здесь,
Там слишком много чувств,
Слева от задней части, как, когда,
Дни еще остались нам
Эти мелочи,
Это держало нас пытаются.
На данной странице располагается перевод песни «Swimming Eyes» исполнителя «Jeniferever». На русском языке песня звучит как «Наполненные слезами глаза ». Для Вашего удобства текст мы расположили в две колонки: в левой находятся слова песни «Jeniferever - Swimming Eyes» на английском языке, в правой же перевод песни «Swimming Eyes» на русском языке.
Еще переводы песен исполнителя Jeniferever