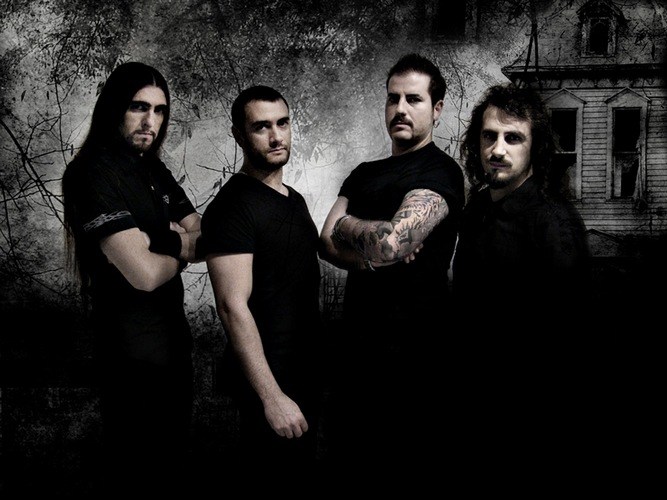 Devil in the Tower
Hidden in the silence of your room
He whispers lies that will bring your doom
The Devil
He walks with his hoofs of goatish male
Chaining the men to the egoism jail
The Devil
[Choir:]
For black magic power
High majestic tower
Fills your heart of ire
Promises of desire
For black magic power
High majestic tower
Fills your mind
A beam falls down from a clean sky
Bringing ruin to you, my friend
[Chorus:]
The bells chime, Devil in the tower
Looks over his column at the human fall
No more time, Devil in the tower
And ever in your mind you feel his call.
Two men are falling down
The souls cry and the thorn
Will be your crown
The sceptre in my left hand
I ever reign in the material land
You will red the book of truth
Then you will feel madness
Screaming form your truth
Humanity enemy
I am the guardian of the mystery
[Chorus]
In the nightfall
You will be a thrall
Of his evil lies
Cruel nightmare
Like black prayer
Full of scorn and vice
The end of the balance
Is your defeat
While you dance the Devil's suite
Climb the tower
It's the hour
Dream the reality
Cut your flesh husks
In the soul dusk
Come your agony
You're falling down
So falls the mask
It's time to answer and ask
Silence in the room
The Devil lies in the nightfall
Devil in the tower
Bringing ruin to you, my friend
Hidden in the silence of your room
He whispers lies that will bring your doom
The Devil

Дьявол в башне
Скрытый в тишине вашей комнаты
Он нашептывает ложь, что принесет вашей гибели
Дьявол
Он ходит со своими копытами козлиным мужского пола
Цепной людей к эгоизму тюрьмы
Дьявол
[Хор:]
Для черной магии власти
Высокая величественная башня
Заполняет ваше сердце ярости
Обещания желания
Для черной магии власти
Высокая величественная башня
Заполняет свой ум
Луч падает с чистого неба
Доведение разорения вам, мой друг
[Хор:]
Колокола звон, дьявол в башне
Смотрит на его колонку грехопадения
Нет больше времени, Дьявол в башне
И когда в вашем сознании вы чувствуете его призыв.
Два человека падает
Души плакать и шип
Будет ли ваша корона
Скипетр в левой руке
Я когда-либо царствовать в материальной земле
Вы красны книга истины
Тогда вы будете чувствовать безумие
Кричащие форма вашей истины
Человечество враг
Я хранитель тайны
[Хор]
В сумерках
Вы будете Тралл
Из его злых лжей
Жестокий кошмар
Как черный молитвы
Полный насмешек и порока
Конец баланса
Является ли ваше поражение
В то время как вы танцуете набор дьявола
Подъем на башню
Это час
Мечта реальность
Сократите свою плоть шелуху
В душе сумерках
Приходите вашу агонию
Вы падаете
Так падает маска
Это время, чтобы ответить и спросить
Тишина в комнате
Дьявол кроется в сумерках
Дьявол в башне
Доведение разорения вам, мой друг
Скрытый в тишине вашей комнаты
Он нашептывает ложь, что принесет вашей гибели
Дьявол
На данной странице располагается перевод песни «Devil in the Tower» исполнителя «Dark Moor». На русском языке песня звучит как «Дьявол в башне ». Для Вашего удобства текст мы расположили в две колонки: в левой находятся слова песни «Dark Moor - Devil in the Tower» на английском языке, в правой же перевод песни «Devil in the Tower» на русском языке.
Еще переводы песен исполнителя Dark Moor