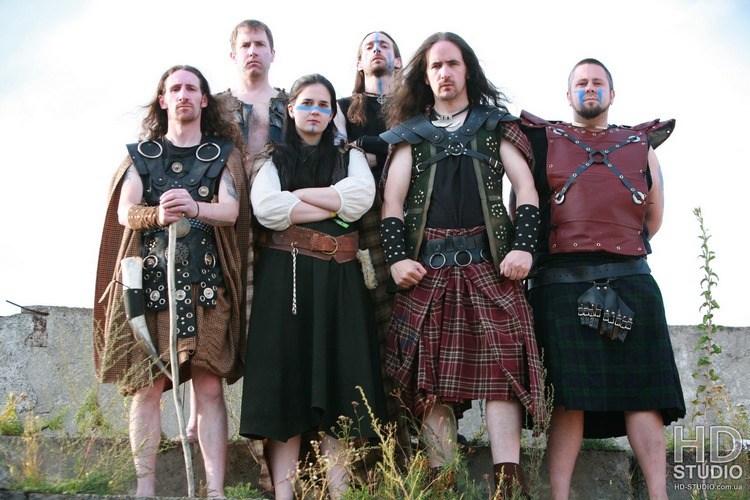 Primeval Odium
There is a pain inside me
A pain as old as earth
That has outlived civilizations
A primordial anguish so strong
So unforgiving in its innocence
That I would cut it from me.
There is fear inside me
A fear that twists my mind
A vision of what the future holds
For my land, my home, my kin.
A future void of dignity
I would use this fear
As a warning of what may pass
I would use this fear.
There is hatred inside me
That has stemmed from a millennia
Of pain, hardship and fear
I have watched my people prosper
And I have watched them turn to dust
I would watch them crawl in filth
I would use this hatred.
"We are ready to die and shall die cheerfully and proudly,
You must not grieve for all of this."
There is evil inside me
I fear its power so strong
I fear as it compels me to hate
A primal energy so powerful
An ancient force flowing in my veins
I am one with malevolence
And no regret shall come from my deeds
For I am at one with malevolence

Первобытная злоба
Существует боль внутри меня
Боль стара как земля
То есть отжившие цивилизации
Первозданное мучение настолько сильны
Так неумолимый в своей невиновности
То, что я бы сократить его от меня.
Существует страх внутри меня
Страх, который крутит мой разум
Видение того, что будущее держит
Для моей земле, мой дом, мой родственник.
Будущие лишенное достоинство
Я хотел бы использовать этот страх
В качестве предупреждения о том, что может пройти
Я хотел бы использовать этот страх.
Существует ненависть внутри меня
Это была обусловлена ​​тысячелетий
Боли, лишений и страха
Я наблюдал, как мои люди процветают
И я видел, как они обращаются к пыли
Я бы смотреть, как они ползают в грязи
Я хотел бы использовать эту ненависть.
«Мы готовы умереть, и умрем весело и гордо,
Вы не должны скорбеть все это «.
Существует зло внутри меня
Я боюсь его сила настолько сильна,
Я боюсь, как это заставляет меня ненавидеть
Изначальная энергия настолько сильны
Древняя сила течет в моих жилах
Я одна с недоброжелательности
И не жалеют не должен исходить от моих поступков
Ибо я на один с недоброжелательности
На данной странице располагается перевод песни «Primeval Odium» исполнителя «Cruachan». На русском языке песня звучит как «Первобытная злоба ». Для Вашего удобства текст мы расположили в две колонки: в левой находятся слова песни «Cruachan - Primeval Odium» на английском языке, в правой же перевод песни «Primeval Odium» на русском языке.
Еще переводы песен исполнителя Cruachan